Our lives are balanced by the ocean; the flow of water, the taste of salt, sand under our feet, the sun on our skin. We were searching for a place, in a place, that gives us everything that is important for this balance.
We have been travelling to Jeffery's Bay since we were teenagers in search of waves, lifestyle, and adventure. We find Jeffery's Bay offers the perfect mix for a great family holiday including great waves, beautiful beaches, bargain shopping, the best restaurants and lots of adventure to be found.
For many years we were keeping our eye open along the coast for our perfect holiday home, but we had a lot of boxes to tick:
The waves had to be excellent & consistent
We wanted beautiful & clean beaches to hang out on
The place had to be chilled, safe, friendly, but not boring
We wanted a close walking distance to the surf spot
After seven trips to J-Bay in 2017, luck struck when we saw a 'For Sale' board outside of a wooden home 100 meters from Lower Point Beach in Jeffery's Bay. After viewing the home, we knew without a doubt it would be our happy place. In no time at all, the house was bought, alterations completed, furnished, and our dream was fulfilled.
We invite other cool ocean loving people to enjoy our happy place.
Mark & Bonnie
Our favourite things to do in J-Bay
Hanging out at the beautiful and clean lower point beach, surfing, playing in rock pools and tanning to the sound of seagulls
Surfing Super Tubes, which is rated as one of the top ten surfing spots in the world is always a highlight
Driving 30 minutes to Cape St Francis and setting up at Seals Point with a picnic, umbrella, boards & towels for the day. Seal Point is a consistent, exposed point break. Also on offer is a surf at Huletts and Bruces if the conditions allow
Popping into InFood for a take away cappuccino and fresh pastry after a dawnie surf
Enjoying a casual lunch at JBay BruCo, who serve great pizza in a really cool relaxed set up with a kid's play area
Every Saturday morning, we try to coax the family to participate in the 5km parkrun, and meander through the flea market after
Jeffery's Bay is of well-known for all its surf brand factory shops, so a holiday must include a shopping spree
On the onshore and small surf days we take the kids to the skate park at the bottom of DaGama Street in the J-Bay Surf Village and to the water park at Dolphin Beach
Over the festive season an impressive fun fare is set up for the kids
Our favourite family restaurant in the country must be Nina's Real Food which has the most delicious menu & craft beer
Another favourite is Pasta & Co where you can try the 'Car Park John' craft beer only sold here
Bomb Barrels
Hanging out at the beautiful and clean lower point beach, surfing, playing in rock pools and tanning to the sound of seagulls
Surfing Super Tubes, which is rated as one of the top ten surfing spots in the world is always a highlight
Just Chilling
Driving 30 minutes to Cape St Francis and setting up at Seals Point with a picnic, umbrella, boards & towels for the day. Seal Point is a consistent, exposed point break. Also on offer is a surf at Huletts and Bruces if the conditions allow
Lekker Chow
Popping into InFood for a take away cappuccino and fresh pastry after a dawnie surf
Enjoying a casual lunch at JBay BruCo, who serve great pizza in a really cool relaxed set up with a kid's play area
Takkies On
Every Saturday morning, we try to coax the family to participate in the 5km parkrun, and meander through the flea market after
Jeffery's Bay is of well-known for all its surf brand factory shops, so a holiday must include a shopping spree
Grom Stoke
On the onshore and small surf days we take the kids to the skate park at the bottom of DaGama Street in the J-Bay Surf Village and to the water park at Dolphin Beach
Over the festive season an impressive fun fare is set up for the kids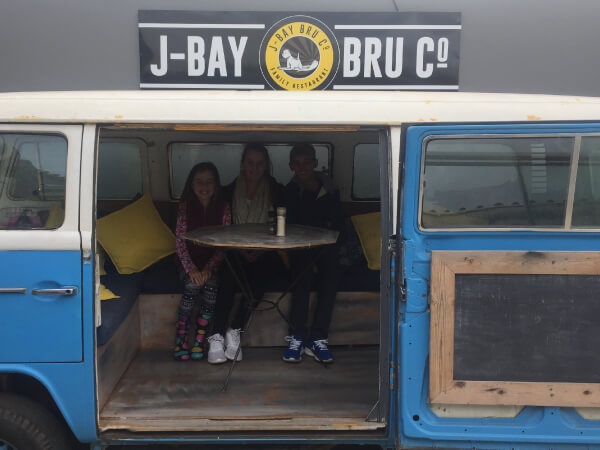 Beer Time
Our favourite family restaurant in the country must be Nina's Real Food which has the most delicious menu & craft beer
Another favourite is Pasta & Co where you can try the 'Car Park John' craft beer only sold here